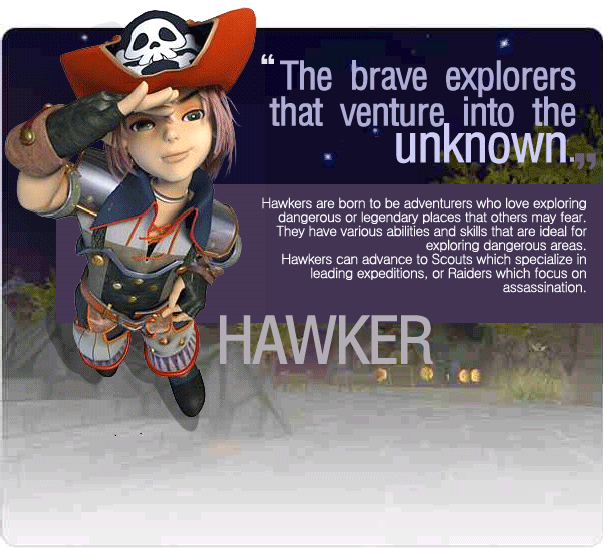 Basic Information
Hawkers are the dual weapon users and archers of Rose Online, with the highest attack speed and movement speed of all the classes.
Hawkers' main weapons are Katars, Dual Swords, Bows, and Bow Guns. The primary stat for Hawkers is DEX.

At level 70, Hawkers can advance to a Raider or Scout.
1st Job Quest
Get to level 10 and go to Canyon City of Zant
Talk to (Akram Kingdom Minister) Warren
Talk to Shannon in the Valley of Luxem Tower and he will ask you to find 20 dew

You can find dew in Adventurer's Plains from Mother Choropy,Jelly King and Spotted Choropy

Once you get 20 return to Shannon who will give you your recommendation
Then return to (Akram Kingdom Minister) Warren and you are now a Congratulations!
Skills
| | | | |
| --- | --- | --- | --- |
| Name | Description | Type | Skill Book Price |
| Bow Mastery | Increase Attack Power of Bow weapons. | Passive | 1300 |
| Relax | Increase HP Recovery Rate while resting | Passive | 3450 |
| Combat Mastery | Increase Attack Power of Katar and Dual Wield weapon | Passive | 1300 |
| Battle Mastery | Increase Attack Speed of Katar, Dual Wield and Bow weapons | Passive | 3450 |
| | | | |
| --- | --- | --- | --- |
| Name | Description | Type | Skill Book Price |
| Double Slash | Deliver two blows at a target at once. | Offensive | 3450 |
| Power Attack | Hit a target with mighty force while using a Knuckle or a Melee Weapon. | Offensive | 1300 |
| Screw Attack | Enable its caster to spin widly on a spot to inflict damage on a target | Offensive | 10750 |
| Sprint | Increase the caster's Movement Speed for skill's duration | Self Buff | 6600 |
| Spiral Kick | Enable its caster to spin and kick on a spot to do splash damage to nearby ennemies | Offensive (AOE) | 10750 |
| Heart Hit | Shoot a heart shaped spirit sphere at a target from a distance.Inflict damage and decrease target's Attack Speed at the same time. | Offensive | 15900 |
| Hawker Spirit | Increase the caster's Attack Accuracy for skill's duration | Self Buff | 4900 |
| Double Shot | Shoot two arrows at a target at once [Transitions into Triple Shot at lvl. 10 Scout] | Offensive | 3450 |
| Speed Shot | Increase Attack Speed of Bow and Crossbow weapons for skill's duration | Self Buff | 18850 |
| Aim Shot | Shoot an arrow at a target with great force | Offensive | 1300 |
| Trap Shot | Shoot an arrow at a target with great force | Offensive | 8550 |